Top Ten Ways that We Have FUN at Southwest!
bstrickland
Explorer B
Mark as New

Mark as Read

Bookmark

Subscribe
Though we all come from different backgrounds and corners of the world, we all seem to share one thing – a LUV of Fun! Whether we're working behind the scenes at Headquarters or serving Customers in the terminals and in the sky, a Fun-LUVing personality is part of our job description. In honor of January 28th being "National Have Fun at Work Day", here are some of the top ways we try not to take ourselves too seriously in the workplace. 1. Lots of companies urge their employees to stay healthy and exercise regularly—we get our workouts with our version of tug-o-wars in honor of Texas-Oklahoma Red River Rivalry weekend. Wonder who ended up
pulling
through?
2. Hanging out with mom or dad out on "Take Your Kid to Work Day" doesn't always mean paperwork and meetings.
3. There are a lot of ways we could spread the word about no baggage fees, but we just can't contain our excitement. Don't be surprised if you see any of these Fun-LUVing guys loading luggage on your next Southwest flight.
4. We pride ourselves in not taking life too seriously, and holidays seem to be the perfect excuse to show off our silly sides.
5. Forget elevator music – we prefer live music at 35,000 feet. We bring back stage to center sta…-er-…aisle with artists like Plain White T's, Gavin DeGraw, A Great Big World and more.
6. We'll admit that we are children at heart who like to play just as much. We were all lining up for pictures and video games when Mario paid a visit to
airports across the nation.
7. CEO Gary Kelly might take top prize for Fun-LUVing when it comes to his unparalleled dedication to Halloween festivities.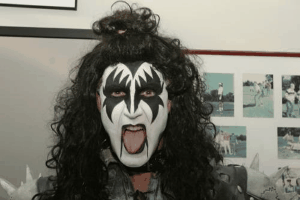 8. We've always thought of our Employees as Pros, and in the case of our Trading Places events, the Pros become our Employees! From having the Orlando Magic mascot marshal airplanes to allowing the Phoenix Suns to scan boarding passes, we give professional athletes a taste of life as a Southwest Employee, and everyone gets to feel the LUV.
9. While these professional athletes are holding down the terminals, we have time for things like this ...
And this ...
10. Most importantly, we LUV giving back to our communities. Whether it's participating in environmental initiatives, granting wishes, or honoring our veterans, our Servant Hearts find Fun in everything we do.
1 Comment
You must be a registered user to add a comment. If you've already registered, sign in. Otherwise, register and sign in.